Many folks ask me when I'll be performing close to where they live. To see me perform a concert in your area is really easy--Host A House Concert!  As some of you may not know, I've totally abandoned the traditional club scene a few years ago. So the only way to see me live is to  Host A House Concert.

For me as an artist, House Concerts have been better for me on every measurable career level. These House Concerts are personal and intimate and that reflects directly in peoples experiences. These shows are also incredibly enriching for me as a performer, and it seems to be similarly enriching for the people at my shows.

A lot of people seem intimidated by hosting one, but if you have hosted a New Year's Eve  or Halloween party for friends, had people over for the 4th of July, then guess what !!  You have all the necessary skills required to host. You only invite people whom you want. You control how many people attend. This information is designed to cover all the bases and outline the details step-by-step to take you from: "Where do I begin?!" to "Let's do it again!!"
WHAT IS A SEAN ROBERTS HOUSE CONCERT?
A Sean Roberts Home Concert is a concert performed by Sean with just him and an acoustic guitar in a living room, parlor, back yard, barn, basement or any room in our outside of your home that's not a traditional venue. Hosting a house concert gives people an opportunity to hear live music in a warm and intimate setting. It's a casual and completely unique event that connects Sean and music-lovers. It's a great format where both audience and Sean get to experience an intimate concert in a 'listening room' setting that is comfortable for all.  A concert in someone's home is not a complicated thing.
 
Keep in mind that this is

not a party with background music

. Sean will be doing a full one-hour show telling his stories and sharing his songs with new ears. Hosts find the opportunity to present their favorite musicians, like Sean, to their friends without having to deal with price-y ticket fees, noisy bars, parking, commute and or high alcohol costs.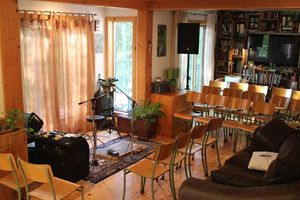 Sean and your guests get to know each other on a personal level, and connect face to face in an environment suitable for anywhere from 25 - 40 people. Some hosts open their homes to a wider audience (friends of friends). Your guests can bring food and drinks to share. These shows have gone up to 100+ people.  If this seems a bit daunting to you, host a "mini" house concert instead! It's great way to spice up your mid-week routine with a short meal or dessert and concert in your own home. And Sean's music is perfect for Dinner and a Song
 
Most of Sean's shows are often performed without amplification, although some are larger, and light amplification is used. In either situation the atmosphere is intimate with audience members inches from the performance. Each house concert is very different, but some of Sean's best shows have been house concerts! House concerts have emerged as a viable way for acoustic singer/songwriters to tour and build a fan base without relying on clubs.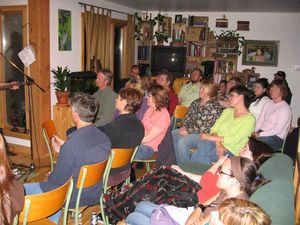 Sean currently performs more than half of his shows at house concerts and has played in different states as well. In order to make a successful house concert the most important factor is that the show is advertised as a "sit down" – this way audience members will know that it's not a party with background music, but in fact a concert just like they may attend in their favorite local theater or listening room. Sean adores house concerts, and engaging with the audience during the show and between sets.
HOSTING A SEAN ROBERTS HOUSE CONCERT?
If all of this seems exciting for you then you can host a Sean Roberts House Concert.  Simply call at 562-310-2753. Leave us your Name, Number and best time to get a hold of you or email at srhouseconcerts@yahoo.com.  We will then send out all the information, including his House Concert Guide that will take you through a step by step of what is to be expected as well as Sean will help guide you through the day of the event.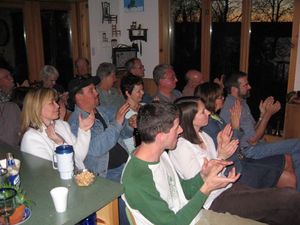 READ WHAT OTHERS HAVE SAID ABOUT A SEAN ROBERTS HOUSE CONCERT
I've known Sean for some time but finally got the nerve to have him do a house concert for my parents 50th wedding anniversary. They could not stop talking about his voice and how wonderful an entertainer he is. If you are thinking about booking him DO IT !!  You will not be sorry for inking the deal !
Sean Mullins, N. Hollywood, CA
"
I had never heard of a "Living Room Concert" and was suspicious but seeing Sean Roberts in such an intimate setting was one of the best musical experiences I've ever had. It was great night, in a relaxing, friendly atmosphere and everyone in attendance commented on how shocked we were that such an enormous talent was right there in the room laughing and talking with us
."
Betty Maxwell, Whittier, CA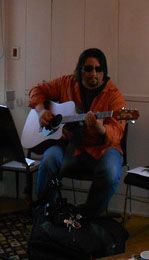 "Sean's voice is so powerful both emotionally and musically. It is an amazing experience to see him live, in the intimacy of a living room."
Diane Smith, Cypress, CA
"Having Sean for a Living Room Concert was an AMAZING experience that all our friends and family are still talking about months later!! Not only is Sean a fantastic singer, but he is a wonderful person as well that became an instant part of our family. We look forward to attending and hosting more Living Room Concerts in the future. Sean ROCKS in more ways that one..."
Bob Olivas, Anaheim, CA
"Sean rocked my Fountain Valley apartment with his living room concert. Friends, family and strangers attended and all were blown away. He also has a way of bringing people together, by the end of the night, we were one big family."
Aimee Potter, Fountain Valley, CA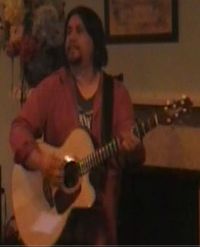 "This was a beautiful performance and an amazing show. Having Sean play for our friends and family in the intimacy of our home was a truly wonderful event. We're still raving about his songs and cannot wait to have him back; his voice is incredible, it soared through our living room!"
Corina Ramirez, El Paso, Texas
"Having Sean in concert in your own home makes for the best evening you could ever hope for. Watching your friends be spellbound by his voice and presence is something you have to experience for yourself."
Jay Fullerton, Beaverton, OR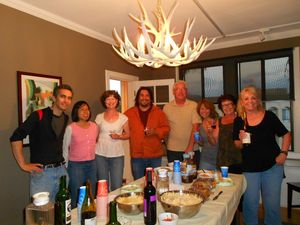 "We moved out of our old home and asked Sean to play at our housewarming party for our new home. He made us the most popular people in the neighborhood! Sean is so talented and so incredibly delightful. Everyone raved and wanted to know how to contact him. He is a gift that just keeps on giving!"
Joile Miller, El Dorado Hills, CA